If I was my younger, twitchier self, I might be offended about the hostility thrown towards baldness as of late. Britney is one thing, for someone that is one of the most obsessed celebrities in our celebrity obsessed culture, shaving all your hair off can be seen as nothing less than a folicular cry for help.
But in my opinion, she looks pretty good bald, a lot of women do. Natalie Portman in V for Vendetta? Rawr!
Then we get to the Vince Mcmahon/Donald Trump
feud
. The climax of their upcoming "Battle of the Billionaires" will be the shaving of the head of the billionaire who backs the wrestler that loses the match. I think, considering the men involved, the winner should get the pompadour-ectomy. The Donald's hair helmet is possibly the most parodied in all of America.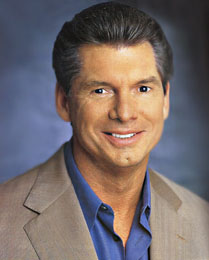 I had my own well documented stuggle with baldness myself(
Part 1
Part 2
)
I've firmly believe that everyone should shave their head at least once in their life, but of course I do it three times a week. It is amazing the perspective you gain for not having something that is so easy to take for granted in your life.
PAL OUT!