This weekend I had the pleasure of hanging out with Jeff Krulik and John Heyn, creators of the certified cult classic documentary
Heavy Metal Parking Lot
. It's a short, simple film of Judas Priest fans(and to a lesser extent Dokken fans) as they do their pre-game substance abusing before a Priest show in 1986 at the Cap Center. It's since gained a cult following through word of mouth and the dubbing of video cassettes of friends.
I saw it for the first time on Saturday at the Black Cat and it is pretty great. The twenty years that have passed have given it a few extra layers of unintentional comedy. The mullets, sleeveless t-shirts and Trans-ams are as they were, not the ironic approximations from TV or movies that try to capture the era that always rings so hollow for us people who actually lived through it (like me). And when the girl says if she met Priest singer Rob Halford she'd "jump his bones" it was hard to imagine back then that this man.......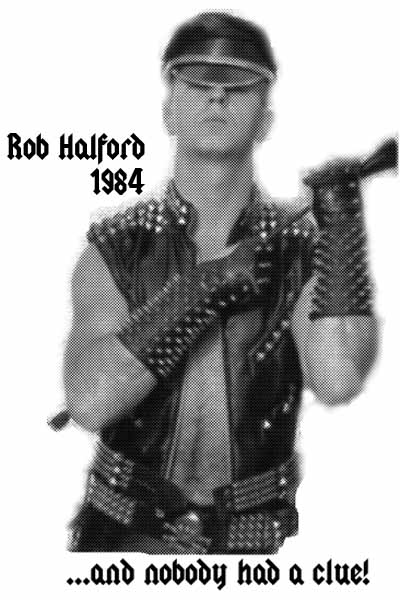 could be gay. The fact that is was filmed in a place that was familiar to most everyone in the crowd induced cheers when a group of people in the movie proudly proclaimed "Glen Burnie!"
Jeff had done a ton of other movies since them (most of which can be viewed at
Planet Krulik
) but none have approached the pop culture success of HMPL. He told me that he's always been grateful that people feel so strongly about it, but it was odd that he is best remembered for what was basically a goof project two decades ago. I told him my basic observation about the increasingly fickle nature of pop culture: It's a whore running at the speed of light; if you try to catch her, you'll fail and look silly doing it. The most you can hope for is to do the best work you can and hope it runs you over.